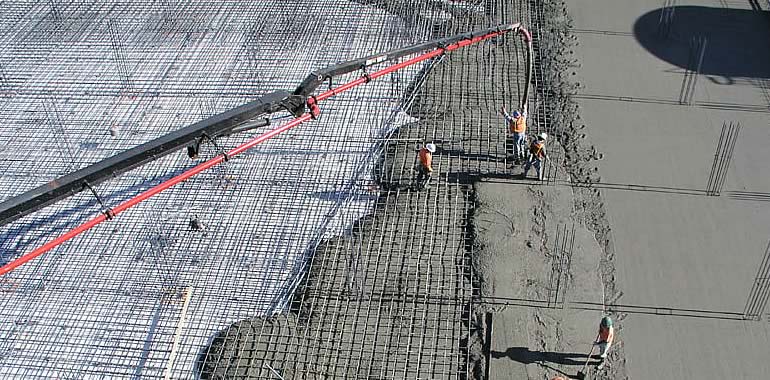 Stadiums, Sports Arenas, Industrial Warehouses, Retail Stores, Parking Garages, Foundations...
As a trusted provider of poured concrete, Long Island Concrete, Inc. is capable of delivering beyond the expectations of commercial concrete and construction clients.  Specializing in large scale heavy construction projects throughout the New York regions, we have worked with countless clients throughout those areas, including in New York City, Queens, Brooklyn, the Bronx, Connecticut, New Jersey and all of Long Island.
Expert Knowledge, Professional Results
Poured concrete foundations are typically the first step in setting a solid foundation for residential homes and commercial buildings.  Because it is basis for the rest of the construction process, it is vital the work is performed by qualified and capable contractors. Poured concrete is the newly mixed flowing concrete which is poured typically from a mixer truck, wheelbarrow or boom to the job site or form. At Long Island Concrete, Inc. we provide all the necessary concrete and deliver it with our trucks, we also provide the equipment and employ contractors who are dedicated to outstanding results.  We are also happy to provide consultation services to ensure that clients are fully informed and knowledgeable about the work to be performed.  Some of the projects we have provided our services to include those involving shopping malls, parking facilities, commercial office buildings, retail shopping centers, airport facilities, train and subway stations, and more.
Poured concrete foundations walls are water resistant, durable, and provide unmatched strength.  Ideal for residential, commercial, and industrial applications, poured concrete offers improved energy efficiency, low cost, and quick installation.  Whether your project involves poured concrete floors, poured concrete walls, poured concrete walls, poured concrete foundations, or is far more complex applications like superstructures, we will exceed your expectations and complete the work on budget and on schedule.
High Volume Poured Concrete
Retaining walls, driveway installation, walkways, foundations for custom homes, patios, garages, high-rise office buildings, whatever your project, our poured concrete contractors are up to the task.  Expertly poured foundation walls are critical to the integrity of any structure.  We offer a complete range of services including digging the foundation, pouring the concrete, and backfilling.  Regardless of the application, it is vital to choose professional contractors to ensure the concrete is prepared in accordance with volume and strength demands.  In addition, proper handling and finishing is critical for a durable, permanent surface.
At Long Island Concrete, Inc. our poured concrete contractors are dedicated to providing commercial customers in New York City, Bronx, Brooklyn, Queens, and other cities throughout Nassau and Suffolk Counties with unsurpassed materials and workmanship at competitive prices.
Contact the friendly team at Long Island Concrete today regarding your next poured concrete project. Click or Call us today at  (718) 784-4606.