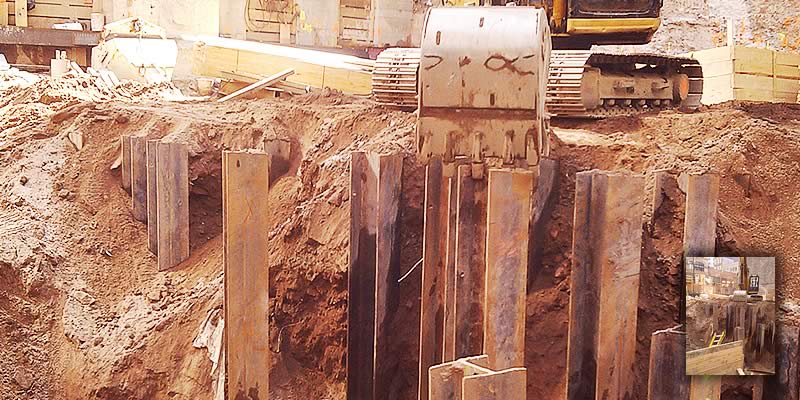 Excavation Contractors Long Island, New York City, Connecticut
Deep excavation and shoring excavation are just two of our specialties at Long Island Concrete, Inc.  Commercial clients in the Bronx, Brooklyn, Queens, New York City, and in Connecticut and New Jersey will find our excavation contractors are skilled and dedicated to outstanding results.
Deep Excavation Contracting Services
We realize the importance of ensuring every excavation project runs smoothly and more importantly, safely.  You may be installing a utility service, underground storage tank, or sewage system.  Regardless of what your exact project is, our excavation services will meet and exceed your needs.  Based in Long Island, we specialize in all aspects of commercial concrete construction, excavation, and earthwork.  Some of the projects we have successfully completed for clients in Suffolk and Nassau County, Long Island New York include shopping malls, parking facilities, train and subway stations, airport facilities, large and small commercial office buildings, and more. If you are looking for a excavation contractor in Long Island, NY look no further.
At Long Island Concrete, Inc. we take pride in offering a wide scope of services; not only do we produce concrete materials, we provide our own trucks, equipment, and contractors to complete your excavation project from start to finish.  Our excavation contractors have the expertise, knowledge, and skill to ensure your project goals are met on time and on budget.  Because we essentially provide two trades (concrete and excavation), every project can be completed in a way that is simple and streamlined, in essence, a more pleasant experience.
Shoring for Excavation
We understand that deep excavation is somewhat of a "delicate" matter, and that extensive monitoring is required to ensure that the integrity of nearby structures is not adversely affected, and the stability of the project is sound.  Our excavation contractors are highly trained and able to cope with excavations regardless of their depth/scope.  We focus intensely on providing a safe work environment in all types of ground conditions so that your installation or construction project can be completed safely.
Shoring for excavation is required in any situation where a site is to be excavated to any substantial or significant depth.  The elements necessary in any shoring system depend largely on the specific project requirements, size and depth of the excavation site, and more.  Our professionals are highly capable and ready to consult with you regarding your excavation needs, regardless of whether your project is small and relatively simple, or large and highly complex. Our excavation services are designed to meet the needs and expectations of industrial and commercial clients; we have the necessary equipment and expertise to complete our clients' excavation projects quickly, efficiently, and safely.  Whether for utility or even roadway preparation, we are ready to get your project underway.  Our excavation contractors will approach your project with careful, thoughtful consideration to ensure the integrity of the surrounding environment and your project.
Contractors Nationwide - Contact Us
Commercial customers nationwide, and in New Jersey, Connecticut, Queens, New York City, Brooklyn, and the Bronx are invited to contact Long Island Concrete, Inc. today for superior unmatched quality, services, and price. Speak with one of our friendly professionals at Long Island Concrete about your next project - Call now (718) 784-4606.