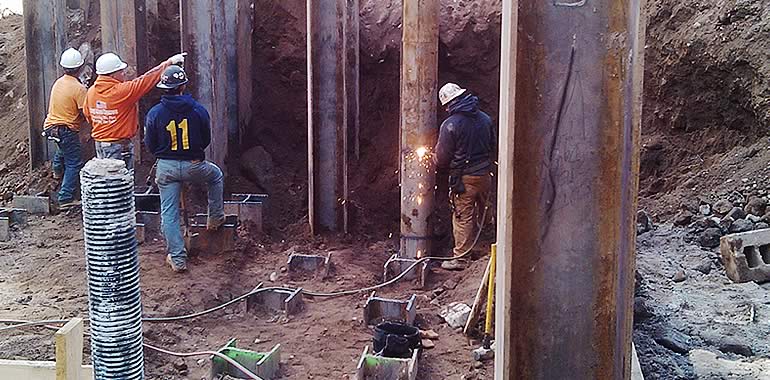 Commercial, Additions, New Construction, Superstructures, Office Complex...
Concrete footings are just one example of the vast array f services we offer at Long Island Concrete, Inc.  Meeting the needs of commercial clients throughout Suffolk and Nassau Counties in New York, we work on all size projects from the simplest to the most complex.  Clients in Queens, Brooklyn, New York City, the Bronx, and in nearby communities will benefit from out extensive skill and knowledge, whether in need of concrete slab foundations, structural engineering concrete, reinforced concrete beams, architectural concrete, or stamped concrete sidewalks or driveways.
Poured Concrete Footing
Our contractors are highly skilled and dedicated to outstanding quality.  We know that concrete footings are an essential component of a structure's longevity and safety, even in the most complex construction projects.  While we do produce the concrete and deliver it to your project site with our own trucks, we also provide highly skilled craftsman to perform the work, along with our own equipment.  Our employees are dedicated to precision and use innovative methods that result in the most reliable concrete footings for large scale and superstructure projects.
Ultimately, concrete footings are a critical element; when they fail, all other components of a structure positioned above or on top of the footings will eventually fail as well.  Because of our vast experience with poured concrete foundations, slabs, and all types of concrete, we know the importance of a solid foundation.  Our trained team is dedicated to meeting the most stringent of standards; we utilize the latest technologies to ensure your project stands the test of time.  Some of the projects we have completed for clients in Nassau and Suffolk Counties in NY include commercial office buildings (small and large), parking and airport facilities, train stations, shopping centers, malls, promenades, and much more.
Concrete Footing Design
It is always important to ensure the concrete footings are specifically formed with regards to your unique needs and circumstances.  Certain factors influence the footings, including the depth of the foundation, whether there is a basement, lateral capacities, and surface texture.  In order for walls to remain straight and to avoid shifting of a building, or structure over the course of time, the right concrete footings are essential.
Thorough inspection of the soil at the project site is important as well, so that proper stability can be assured.  In larger, more complex structures concrete footings contain steel rods and beams for additional reinforcement, ensuring the integrity of the building and giving other elements vital to a solid structure (such as load-bearing walls) the solid support necessary to quality design and buildings that last for decades or even longer.
At Long Island Concrete, Inc. our specialty is concrete contracting and concrete footings is our expertise!  Whether your project is something as simple as pouring concrete sidewalks or you want to learn more about precast architectural concrete, we do it all.  We invite all local, out-of-town big box contractors, developers and agencies in New York City, Queens, the Bronx, Brooklyn, and surrounding areas to contact us today so that we can discuss your project and see what we can do for you.
Click or Call Us Today
Click or call to speak with one of our friendly concrete specialist about your concrete footing building project. Call now (718) 784-4606.